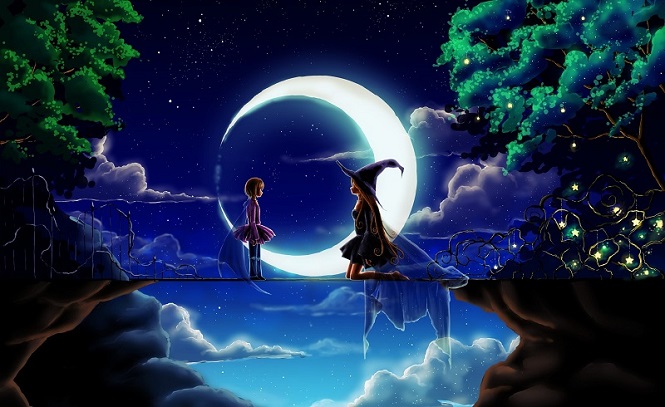 Having Moon in the first house makes your life full of changes. You may also really dislike routine, and traveling could be your second nature. A lot, of course, depends on which sign the Moon is in.
If it's in a cardinal (Aries, Cancer, Libra, Capricorn) or mutable sign (Gemini, Virgo, Sagittarius, Pisces), your life will have more changes than if it were in a fixed sign (Taurus, Leo, Scorpio, Aquarius).
Also, in some signs the Moon feels bad. So if your Moon happens to be in a sign not good for it, such as Scorpio, there will be more negative changes and general moodiness.
MOON IN THE FIRST HOUSE: EMOTIONAL NATURE
Emotional nature is likely to be pronounced with the Moon in the first house, unless the Moon is located in a sign that's not emotional, like Aquarius or Capricorn. In truth, even these signs will allow the emotional side to be there, but it will be well managed.
Therefore, for example, be the Moon in Capricorn, the person will be emotional, but she's not likely to show it to the world.
INTUITION AND SENSITIVITY
The Moon in the first house gives high sensitivity and intuition. You may be very much in tune with your environment, and you may feel the auras of people. There could be so much sensitivity, that you may find it unbearable to be in certain environments.
People with the Moon in the first house can also care a lot about what others think of them. They may like domestic environments and may enjoy cooking; though traveling is in their blood too. They may especially well get along with women and mothers, unless there are afflictions to the Moon.
There could be the inclination to eat if things don't go your way and you are upset. Emotional ups and downs may be very pronounced so unless you do something about it (like learning mindfulness), life could be unhappy as a result.
MOON IN THE FIRST HOUSE: LED BY THE FEELING
You are likely to go by your feeling and intuition rather than by logic. You may feel what others are about, avoiding individuals that wish you ill because you feel their bad vibrations.
The Moon located in the first house may make you passive unless there is a masculine planet located nearby or which has a positive aspect with the Moon. That planet, however, will have to be strong in the sign or because of the aspects, in order to strengthen the Moon.
There could be feminine characteristics in men with such a placement. The native may not necessarily be overly feminine, though sometimes that could be the case. However, he will be in touch with his emotional side and the feminine aspect of him.
Such men often have a strong relationship with their mothers, or their mothers have impacted them greatly. There could be the features of their mothers seen in them.
CARING NATURE, AND SAFETY-ORIENTED
People with the Moon in the first house are caring in relationships. They will put a lot of their emotional intensity into their unions. Physical affection is important to them. They also need to feel safe to feel their best.
They are romantic people, and if they really love someone, they will shower that person with love and attention. Because they are highly perceptive, they will feel whether they are loved or not.
PROPHETIC DREAMS AND EASILY-READ EMOTIONS
If you have the Moon in the first house, you may find yourself getting prophetic dreams. Also, unless the Moon is in a reserved sign, your emotions may be written on your face.
This placement can signify that you like being dependent on others, be it parents, partner, or some institution. That especially is the case if the Moon is alone in the first house. It's important to develop independence with such a placement, therefore, as by default you may tend to follow rules and the orders of others.
Also, with the afflicted Moon, you may find that you tend to be fascinated with the wrong kind of people or ideologies. Since the Moon makes you easily take on the energies of people and the environments, it's very important to learn to understand whom to trust, and who is the right person to be with.
LACK OF BOUNDARIES
Like Neptune, the Moon in the first house may give difficulties with boundaries. You may, after just making friends, feel like inviting the person to your home, even for a sleepover. This may seem totally natural to you. Yet this is not so for others, and also, it's not wise to act this way as you don't yet know the person.
Also, the Moon in the first house may show that emotional maturity is not there. So you may be emotionally volatile, making decisions based on how you feel. Emotions cloud reasoning and prevent you from seeing the situation and life in general as they are.
THE APPEARANCE OF PEOPLE WITH THE MOON IN THE FIRST HOUSE
The Moon can influence people to have a beautiful-looking body, yet weight issues can sometimes arise. Complexion can be very pale, and hair – dark.
The face tends to be round, and the eyes – grey. The Moon can influence the native to have good-quality, luscious hair.
You may like to change your style and you may follow trends. There could be differences in the shape or size of your eyes.
Your hands may be short and plump, and the body may tend towards plumpness. There could be general ease and slowness about the movements of the body.
MOON IN THE FIRST HOUSE: CELEBRITY EXAMPLES
Here are some excellent examples of celebrities having the Moon in the first house:

(Amy Lee's and Nolwenn Leroy's complexions are especially typical of the Moon in the first house. We can see that they have that natural paleness given by the Moon.)
MALFUNCTIONING MOON IN THE FIRST HOUSE
If the Moon in the first house is afflicted or in an unsuitable sign, it will not feel comfortable there. This may show as a native hating work, loving luxuries, wanting everything to come easy. The character of such a native will be unreliable, vague, changeable and too emotional.
These people may have zero ambition, and if the Moon is really afflicted, they may even get hysterical, exhausting themselves emotionally.