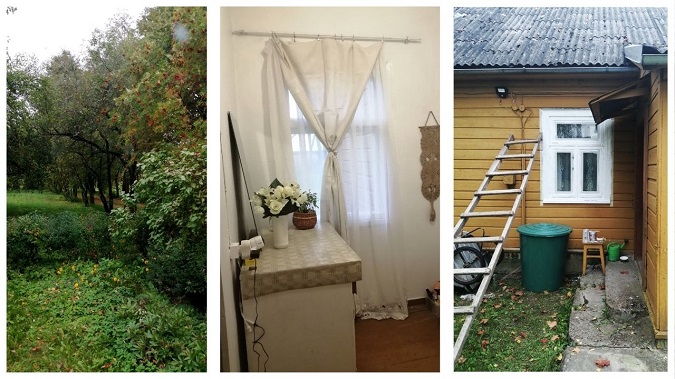 It's been so busy that I couldn't find the time to write anything. I've missed writing.
There's a lot to do on this land now, as winter preparation needs to be made. I received my first volunteer too, right on time – when I had the most work.
She found my expired profile on one volunteering website, and asked if there's a space for her to volunteer. Nobody contacted me on that site for ages. I set it up when I got my first land, but I ended up not inviting anyone as there was just no space for an extra person.
So her contacting me was totally out of nowhere, yet right at the time when I needed help the most.
She proved to be excellent at land work – she beautifully cut the bushes near my house, which you can see here (together with the deer family further down):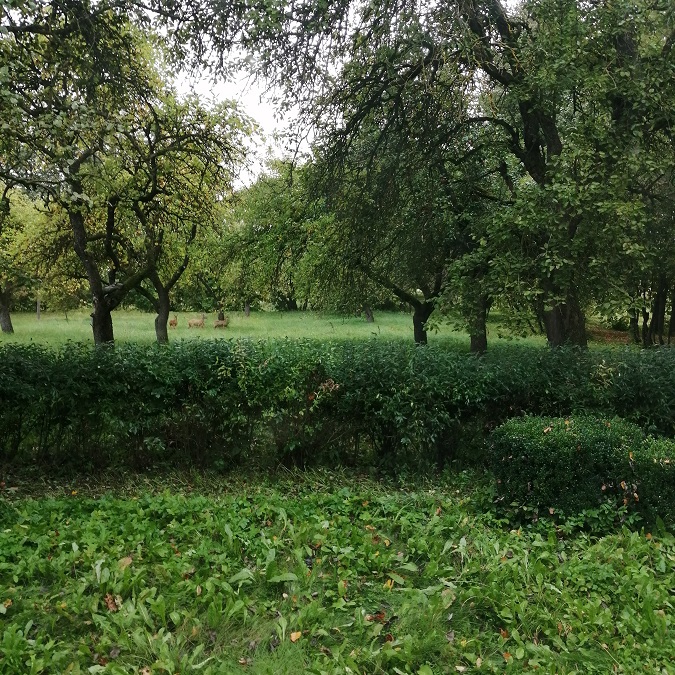 It was her first time cutting the bushes and she did such a great job. She works so hard. I even tell her to take it easy. She overworked yesterday, so today she's resting, and tomorrow we are heading to a local market just six kilometers away.
She is such a great help to have. I will show a short clip of her in one of my farm update videos on YouTube. She also served as a sign that I'm ready to invite other volunteers who are okay with a very basic living.
I was so busy with Life Assessments that I couldn't do much farmhouse work these few days. It's so strange how astrology work comes to me. Sometimes there are no orders at all, but when they come, they all come at the same time and all I can do is sit all day and work.
I've managed to complete the last work yesterday, so it seems that now I will have more time to work on the farmhouse – after publishing this article, of course.
So most of the work was done by that girl these few days.
I've got a manual lawnmower which does an excellent job, but it's unable to cut really tall grass. For that reason, I also got a battery-powered trimmer, but it would take ages to cut grass with it though it cuts well. So eventually, I searched to see if anyone can cut grass with a tractor here, and I've found a person who will do a job without breaking the bank.
He will cut around 80 ares (8000 square meters), where my property borders with neighbors' lands. The other work I can do with volunteers, at our own pace. In most of the EU, it's important to maintain lands, especially bordering with neighbors', because if anyone complains, you can end up paying a fine for a messy garden.
I'm preparing my farmhouse for winter. I've put the second window on each window (this is the old style-way of insulating for the winter), and I bought special tapes to fill the gaps so that there is no air coming through. Though the windows here look solid, winters in Lithuania can be brutal, so it's best to tape everything.
Another good thing to do to insulate the property is to hang heavy curtains. But since this property has 11 windows, buying such curtains is not cheap, especially since I want to have quality ones, matching the farmhouse. I still use random covers and old curtains for my windows, therefore.
I've fixed the main exit door which had quite a big gap, letting air in (and probably mice). I will still need to further insulate it, as well as the doors leading to the house after the main exit doors, but it already has made such a huge difference in the temperature of the kitchen taking up the center of the house.
The whole kitchen stove that connects to one of the chimneys will need to be replaced because it's very old. It could fall apart at any time. It would release the smoke into the kitchen when I burnt wood in it, but I fixed it with cement as much as I could. Of course, this is only a temporary fix, and around three months from now it should be redone, unless I have not enough money to pay the expert (old-style stove renovation is not cheap).
I'm getting very comfortable with electric work, and though at first it took me ages to replace a light switch or a socket, now it's quite easy. I want to learn to do everything myself, so that if I have no help, I'm not at a loss. Though some people watching my farmhouse update videos think it's quite a torture for me, I'm just learning this way. At first, everything is hard, and then it gets easier when you gain skills.
At this time, I had to make a compost toilet. Local sewage will have to wait, because it's not that easy to get it done here. The land here is archeological, which means I need permits to make such changes. And it's not cheap for the land to be dug by archeologists.
So now I can afford to only get the land research for the well done which will be dug very close to the house, providing water supply in the house. But the sewage will have to wait.
Because of this, I made a compost toilet. It works great. I use sawdust in the bucket – the easiest compost toilet to have, and it absorbs all the smells. I've seen some YouTube videos about it and decided to try it. It's an excellent solution for my current situation.
I feel very well in this farmhouse. It feels exactly me. This whole land feels very much in harmony with me. So I don't even want to leave the land at all. Such a living is not suitable for very young people who want action in life, or those who love cities. But if you love nature, do not like modern entertainment, and you love a peaceful life, this is an ideal spot.
Thankfully, I can get most of the supplies within a 14-kilometer radius, which is not hard to cover by my e-bike. I can get food within 7 kilometers of this place, but the ATM and markets are 14 kilometers away. But the best thing is that I don't need to go to cities at all – everything is available in small towns and villages, and other things I can order online. The more I stay in nature, the less I can bear cities.
I feel this farm is going to be a perfect shelter against "the new normal". I want to invite other people to come and live here for as long as they want. If they work well, they will be able to stay for free, even permanently, if they want to. And if they don't want to work, I can host such people for a small amount of money. I believe this is going to be a perfect retreat spot from the insanity of the world.
The good thing about this land is that it also has permits for two extra buildings, so should the community start forming, there is space for quite a lot of people. There are two more buildings that could be made into homes for people, and there's a big attic of this farmhouse that can be transformed into a livable space, into around four rooms.
I would love to form a community here. There's so much space for everyone, and it would be easy to survive from the land and livestock. But, of course, a lot of work needs to be put into this project.
My family and a relative want to come here to spend Christmas and New Year. Should there be no major restrictions, my mother and brother would come here from the UK. It's so wonderful to have a larger space because it allows me to host family, friends, and volunteers.
My boyfriend wants to join me too, but it's not easy as he's from India. India still doesn't allow anyone coming in or leaving the country, since the start of the p l andemic. Only some exceptions are allowed. And even if they start allowing people out, it's not that easy for Indian people to get visas to Europe, unless they are rich. But we are hoping things would work out.
So I guess these are all the updates for now.