Although I planned to write an article about Libra Ascendant, before doing that I decided to quickly update you about my journey so far.
I've left Spain, stayed for a short time in Dubai, met my client there (now friend) who treated me to a stay in the tallest hotel in the world, and now I'm in India.
I firstly thought that I would stay for a month or more in Delhi, but when I got there I realized that there were no tourists at all and that it was rather cold in the evening. So since I really miss the heat, I booked the train ticket to head to the south.
It's been a long journey, more than two days on the train, but because I booked the 2AC class, the journey was comfortable and enjoyable. The food was good also, and the train had new facilities, like a good reading light, a working charging point and renewed bathrooms.
So this made the journey comfortable. Plus, people in my cabin were very pleasant, plus there was a serious man from the Indian Army, so we all felt safe:)
When I got to South India, I was really happy since the weather was just perfect. I missed the heat so much. Also, South India (Kerala) is so clean, it's such a huge difference from the streets of Delhi: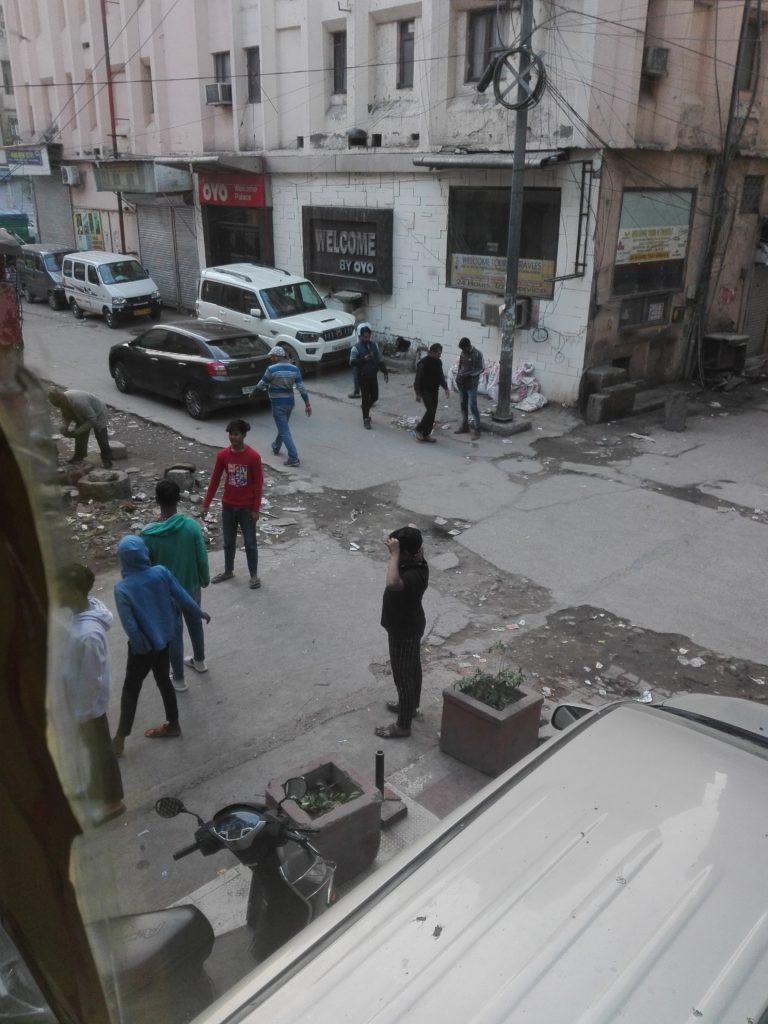 My camera started freezing, so I'm planning to buy a new one once I settle here. It's not going to be an SDLR camera, but I will try to get a good one. Since I'm saving for the house extension, most of my savings will need to go there.
Thank you very much for the readers who made donations towards a new camera. Since I told that my one wasn't working well anymore, I got some people offering some contributions towards a new camera. So I'm very grateful. Because of them I want to get the camera as soon as possible.
My boyfriend is not with me at the moment. He's very busy, as it's the highest season in South India. He will only come when he's less busy, whilst I don't want to stay with him there because it's only going to detract him from work.
At the moment I'm in a nice cafe, having a jackfruit cake and a light latte. I've found a lovely homestay, and they had only one room available (as it's the highest season here).
Listen to "Personal Update: I'm in India, and About Estrogen" on Spreaker.
It was the first choice homestay for me, so I was beyond happy to hear that they had one room available. They also offered it for a great price. I think I will stay here till our trip to Nepal (me and my boyfriend's, that is).
The last thing that I wanted to update you about is with regards to the estrogen therapy about which I wrote already here and here. In the last post about it I wrote that I stopped taking it because there were symptoms of overdose. This showed me that I have levels of estrogen higher than I thought. So it was good news.
However, several days after stopping to take it, whilst I was on the train to south India, my eyes got really dry again, to the point that it triggered tears. So this prompted me to resume my estrogen therapy, though at a dose half the previous one.
This proved to be the correct choice, because so far there are no side effects whatsoever, and my eyes are humid again. I also take progesterone with it as that's what's advised for women with uterus intact.
I will continue monitoring my body for any unusual reactions, but so far so good. I've also managed to order on Amazon a natural supplement for thyroid support and I got biotin from a pharmacy nearby. I'm trying to restore my hair with these supplements as it got thin over the years of being vegetarian. I will update you about the results in the future.
Now I'm going to resume the life assessment work. I have a good amount of work but I'm enjoying it. I love working with stars, and I find that if I maintain a moral lifestyle, I'm very sensitive to star influences.
So when I see the chart, I know what the person is about because I feel the energies. That's the reason the most common response to my assessments is "Wow.".
Astrology knowledge is not enough. To really get to the root of what a particular person is, sensitivity to planetary energies is a must. And I find that this sensitivity remains great if you try to lead a life as pure as possible.
So this is all I wanted to update you about. I'm hoping to write an article and make a video about Libra Ascendant after dealing with the earliest life assessment orders.
If you have any questions related to this post, please do ask them in the comments and I will try to answer them. May your day be blessed!